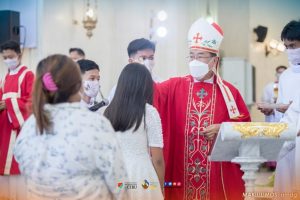 Forever I will sing the goodness of the Lord, for the Lord has gifted us with so many things especially the gift of life, the gift of the new day, and above all the gift of Christian faith which we received 500 years ago.
As we celebrates the 2nd Day Triduum, 100 candidates from 12 different parishes received the Sacrament of Confirmation at the National Shrine of St Joseph-Mandaue. The mass was presided over by Palo Archbishop John Du.
One of the candidates was Niño Sean Bensi from Tipolo Mandaue, 12 years old who was the youngest. The oldest was Analyn Formentera, 37 years old from Camotes Island. Both of them attested that they would surely remember such unforgettable moment for the rest of their lives.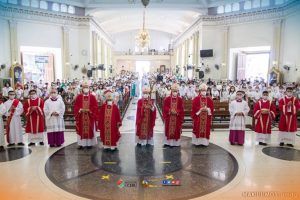 The Sacrament of Confirmation is the full acceptance into God's family and the reception of the gifts of the Holy Spirit.
At around 1pm, a motorcade happened around the City of Cebu and Talisay with the Pilgrim image of the Sñr. Sto Niño de Cebu and the  Jubilee Cross.
The day was wrapped up with a cultural show entitled "Chronos et Kairos" – God's time in Philippine Liturgical Seasons. The show conveyed in creative dance and drama. It was a creative reminder of the rich meaning and symbolism of the Church's liturgical seasons which is always a time of life, a time of light, and a time of hope.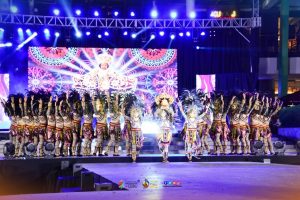 On that night, Archbishop Jose Palma announced the declaration of our President Rodrigo Duterte as a Special Non-Working Holiday on April 14, 2021 which is the commemoration of the First Baptism 500 years ago, the reason for the celebration. At the end of the show, everyone was reminded: "Let us be generous with our time with God and for others. And as a baptized Christians, we are gifted to give."