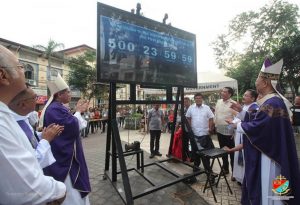 The Archdiocese of Cebu launched the 500-day countdown to the 500th Year Commemoration of the First Baptism last Sunday, December 1, 2019 at Plaza Sugbo, Cebu City.
Cebu Archbishop Jose S. Palma, DD led the celebration of the Holy Eucharist which was followed by the unveiling of the countdown clock and the blessing of the 2021 Jubilee Cross.
In his homily, Palma urged the faithful to take part in the Church's preparations and celebration of the special jubilee.
"Sa atong bahin, we do our share of preparation [through] prayer, formation, celebration [sa] lain-laing jubilees, visit Magellan's Cross, Señor Santo Niño, and of course, [join the] preparation for the big events in 2021," he said in his homily.
Palma also praised the close collaboration of the various agencies and individuals involved in the quincentennial celebrations in Cebu including the church, government, media and the Cebuano people.
"Malipayon natong pag-ingon nga we are all united. Tungod sa pagbunyag ug pagdawat nato sa Ginoo, we have all become a family of God," he said.
He added that having Cebu as the site of the first baptism shows God's love and plan for the province, and urged the faithful to remember and welcome Christ in their hearts and lives.
"We can see He is here present, but it makes a difference when each and every one of us will over and over again [say], Lord sayod ikaw, welcome ikaw, because in fact siya una nag-welcome nato," he said.
The Jubilee Cross, a replica of the Magellan's Cross, will be toured around the different dioceses in the country together with the image of the Santo Niño in preparation for the anniversary celebrations.
The Opening Salvo is part of the preparations by the Catholic Bishops' Conference of the Philippines and the Archdiocese of Cebu for the Quincentennial Anniversary of the Philippine Christianization in April 2021. Other activities include the Parish Mission Congress and the Archdiocesan Mission Congress in 2020, and the National Mission Congress and Amorsolo Painting Exhibit in 2021.
The first Baptism was held on April 14, 1521 where Rajah Humabon, Queen Juana and 800 other Cebuanos were baptized into the Catholic faith. The baptism marked the beginning of the faith in the Philippines, particularly in Cebu, referred to as the cradle of Christianity in Asia (from Archdiocese of Cebu Official webpage).