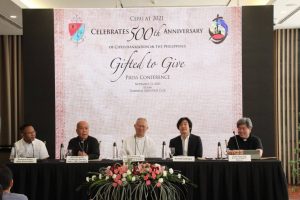 The Archdiocese of Cebu has begun its preparations for the quincentennial celebration of the arrival of Christianity in the Philippines in 2021.
The theme of the celebration, "Gifted to Give", highlights Filipinos' giftedness of faith, and the capability to share this gift to other people.
The various activities center on the celebration, formation and legacy of the fifth centenary. Preparatory activities will be held in parishes starting August 2020 culminating with the Archdiocesan Mission Congress on October 23.
The archdiocese will hold a year-long celebration from November 2020 with formation and pastoral programs cascaded to different parishes through Church commissions. Jubilees are also planned for various sectors such as doctors, engineers, teachers and even habal-habal drivers and street children.
The nine oldest churches in the archdiocese will also play an important part as pilgrim churches and as sites for Cebu Archbishop Jose Palma's Misa de Gallo this year. The archdiocese is also set to update the rites of baptism, confirmation, and catechesis during the year-long celebration.
The climax of the anniversary will be from April 12 to 16, 2021 which will be headlined by the National Mission Congress. It will cap with the sending off 500 Filipinos as missionaries and evangelizers to various nations at the closing of the congress on April 16.
A Triduum will also be celebrated with a confirmation on April 11, adult baptism on April 12 and a grand procession on April 13.
The first baptism in the country will be commemorated in the archdiocese on April 14 with the baptism of 500 children with special needs. Through the Catholic Bishops Conference of the Philippines, a simultaneous commemoration of the first mass in parishes all over the country is slated.
Other quincentennial activities include an exhibit of Fernando Amorsolo's work, "The First Baptism", and the ongoing pilgrimage of the Jubilee Cross and the image of Sto. Niño de Cebu which started visiting parishes around the country last December 1, 2019.
To cap the celebration and highlight the anniversary's legacy, the archdiocese plans to release a souvenir book and a compilation of homilies for Lent and Misa de Gallo.
Fr. Mhar Balili, secretary general of the archdiocese's quincentennial anniversary, is encouraging the faithful to actively participate in the special celebration and be involved in parish-based programs and national activities.
The quincentennial anniversary commemorates the arrival of Magellanic expedition and the birth of Christianity in the Philippines (from the Archdiocese of Cebu Official Webpage).