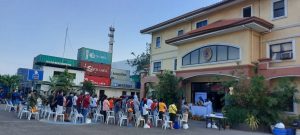 On Easter Sunday, April 4, 2021 at 4:00 PM, all parishes in the Archdiocese of Cebu simultaneously celebrated the Holy Mass, Unveiling and Blessing of the Jubilee Cross to mark the Opening of the 500 Year of Christianity in the Philippines. In solidarity with the Archdiocese, Stella Maris-Cebu moved its Holy Mass usually happened in the morning to 4:00 in the afternoon. An Unveiling and Blessing of the Jubilee Cross were also part of the celebration. Seafarers, porters, maritime police and AoS volunteers were also present and representatives from these groups were the ones who unveiled the Jubilee Cross.
What made the celebration also more meaningful was the gift giving of 275 Bundles of Joy to 275 porters and 80 food packs to street dwellers.
Quoting the words of one of the porters, "Salamat Padre, wala gyud mi nimo talikdi" (Thank you Father, you have never left us!). To recall, since the start of the pandemic last year, the porters in the maritime community were first affected by the pandemic due to the closure of seaports. The Stella Maris-Cebu has been in the front line in extending practical helps to the displaced porters. To date, many of the porters have not been able to return to their jobs at the port. One leader of the porters group CAPHA, Genevieve, said that in order to survive she's currently working as a housemaid.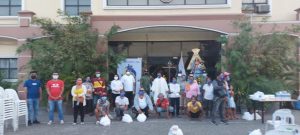 Archbishop Jose S. Palma in his homily at the Metropolitan Cathedral had said, "There are many who are hungry, homeless, lonely and afraid. Many who long for companions. Yes, we are gifted so that we can bring comfort, forgiveness and love to others. So that the hungry may have some food and the lonely may have some friends. So that those who hunger for God and for His mercy, may know that through us, indeed, Jesus is risen and is present in our midst, to bring His mercy and hope. and consolation and joy." end quote. Surely, the ministry of the Apostleship of the Sea/Stella Maris-Cebu has already been doing what the Archbishop has said. (From the Stella Maris-Cebu FB Page)