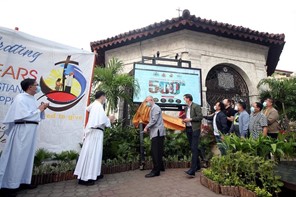 Archbishop Jose S. Palma and other Church leaders led the ceremonial unveiling of the 100-day countdown marker for the 500 Years of Christianity at Magellan's Cross in downtown Cebu City on Monday, January 4, 2021. Also present were Augustinian friars from the Basilica Minore del Sto. Niño de Cebu, led by its rector, Fr. Pacifico Nohara Jr. They were joined by Vice Mayor Michael Rama, and some city councilors and a number of department heads in the Cebu City government.
The electronic countdown board was placed right beside the chapel that houses Magellan's Cross, the Christian cross planted in Cebu during the arrival of Portuguese explorer Ferdinand Magellan in 1521.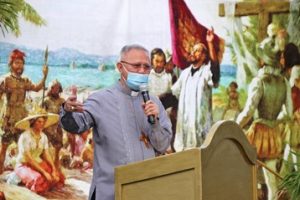 Archbishop Palma in his speech, said that the celebration for the quincentenary of Christianity in Cebu is a blessing. He said, "Why is it important to look back to 500 years ago. Because it is kairos. It is God's time. It is filled with blessings. And today, as Cebuanos, we count the blessings despite the many concerns we have of the past 500 years." He further encouraged all the faithful not to lose hope and their faith amid the challenges the public is facing. "We are looking back in the past for thanksgiving and we will look forward with hope. There is COVID-19 (coronavirus disease 2019), yes, but COVID does not paralyze us," he said.
Photos by: Sammy Navaja